By Rida Lyammouri
June 4th, 2016 (updated June 10th)
Consequences of recent increased violence in Diffa region by Boko Haram militants:
Until May 2016 many villages, including Bosso, were considered safe places to many refugees that fled violence in NE Nigeria, N. Cameroon, and Chad. However, already displaced population were forced to flee several location. For instance, in Yébi, Medecin Sans Frontriere (MSF) was managing a health post that provided assistance to people who had already been displaced—until it was destroyed May 19th attack.
From security standpoint, population fleeing villages have left a void and likely made it easier for Boko Haram militants to move easily without being detected and reported.
More than 200,000 displaced population settled in Diffa region fleeing Boko Haram violence in NE Nigeria and Niger itself. However Boko Haram recent attacks forced at least 50,000 to relocate to Diffa and even further to Zinder.
The Islamic State in West African Province (ISWAP) released statement on June 4th claiming June 3rd attack on Bosso military post, but not the attacks on civilians at Yébi. Here is a summary of the statement released by ISWAP: "With the help of God, Caliphate soldiers carried a large scale attack with different types of weapons on a military base in Bosso, southeastern Niger where Nigérien and Nigerian soldiers are based. Caliphate soldiers killed at least 35 and injured other 70 from both, Nigérien and Nigerian armies, also seized important amount of weapons before mujahideen safely returned to their base."
On May 19th, at least six civilians killed and seven injured when Boko Haram carried an attack on Yébi village, 5km from Bosso, according to Niger's Army. Reportedly, four of the victims were burned alive and two shot dead. Yébi was one of few villages in the area where local population remained but according to statement posted on Urgence Diffa Facebook page the entire village now is burned. The attack was conducted at night from 10:00pm until 02:30am. Statement also indicated that Nigérien military did not respond until in the morning where they pursued members of Boko Haram. Because of physical damage to the village it was believed that casualties are far more than what Nigérien Army reported. Statement estimated number of casualties to be 23 and expected to increase. Worse, while majority of people were able to flee and hide in the bushes near the village, victims could be mostly women, children, and elders that were unable to escape according to the statement. Numbers are difficult to confirm but what's alarming is the ability of Boko Haram members to easily conduct such attacks on unprotected civilians and causing such damages.
On May 27th, Nigérien Army clashed with Boko Haram members at Bosso. The attack was launched by large number of Boko Haram members but Nigérien security forces successfully pushed them back. Reportedly, security forces killed around 12 Boko Haram members and seized important amount of equipment according to an army statement. Also three Nigérien soldiers lightly injured. According to a local, the assault started toward the end of the day by 5:30pm and ended around 8:00pm. 
On May 31st, Boko Haram again attacked village Yébi. Reportedly six civilians killed while number of the injured is unknown. Again, Boko Haram again carried the attack at night around 10:00pm and clashes with security forces of Niger lasted until 04:00am. Number of Boko Haram conducted the attack were reportedly around 40.
On June 3rd, Boko Haram launched even larger scale attack on Nigérien Army based in Bosso. Nigérien Defense Ministry stated that more than 100s of Boko Haram members participated in the attack. While reportedly 30 Nigérien and 2 Nigerian soldiers are killed, 67 other soldiers wounded (ISWAP claimed killing 35 and wounding 70), and there are no reported casualties among civilians. This is largely because most of the population have left the village and Bosso is more like a military base today. Boko Haram again launched the attack at night and captured the village of Bosso overnight. Larger Nigérien Army reinforcement arrived the following morning and managed to recapture the village after Boko Haram have already left. According to Aïr-Info Agadez quoting local sources, Boko Haram abandoned the village early in the morning with important amount of arms, tanks, and foodstuff. Same source also stated Boko Haram left with hostages after burning and ransacking public buildings. There are concerns about unknown number of soldiers missing while the faith of civilians fled the attack remains unknown.
This attack on Bosso came three days after Nigérien Defense Minister told BBC reporter that Boko Haram don't have the capacity to attack security forces of Niger. True that since Boko Haram started conducting attacks in Niger in February 2015 mainly targeted civilians. However now the group demonstrated its ability to carry even more deadly attack on Niger security forces. Niger simply doesn't have the resources to protect its borders against the spillover of violence not only from Nigeria, but also from Mali and Libya. Coming months are critical for Niger with increased pressure on violent extremist groups operating in Mali, Nigeria, and more importantly on the so-called Islamic State in Libya.
June 5-6, Boko Haram militants and Nigérien Army clashed in Bosso. Mayor told Reuters that Boko Haram seized control of the town while Nigérien government stated later in the day Niger forces were in total control of the village. Local source reported that clashes moved toward a nearby village, Toumour, west of Bosso, and local population is genuinely concerned. Aïr-Agadez posted on its Facebook page confirmed that Boko Haram militants occupy Toumour as well.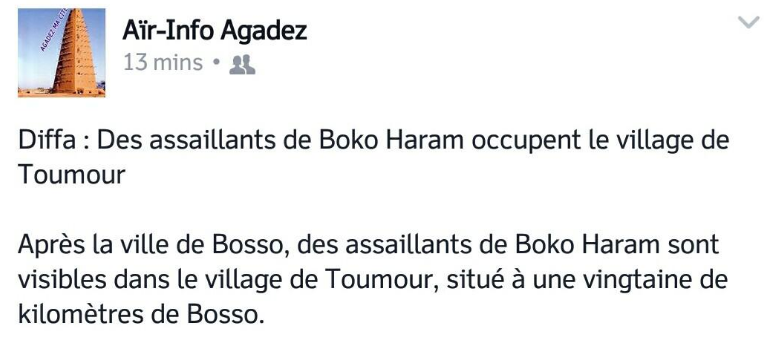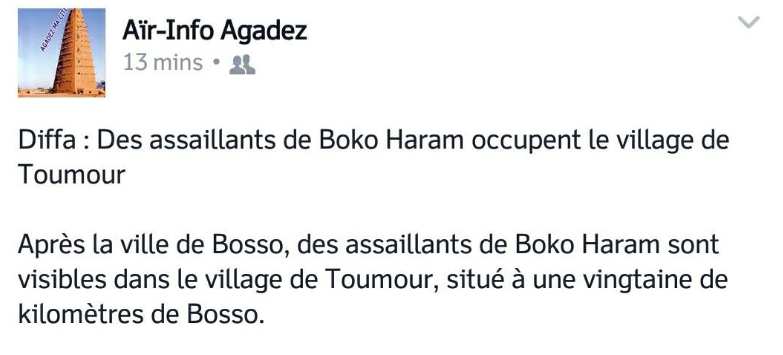 Statement above by Air-Info Agadez claiming Boko Haram militants occupy Toumour, a village located west of Bosso on the way to Diffa.
June 9th:  Village Kablewa was reportedly attacked by armed men around 2am. Although there were no casualties or violence clashes, local witnesses said gunmen seized goods and foodstuff from local stores they robbed.